The agricultural fair of Bras-Panon, is organized every year in May. It brings together many farmers, agricultural producers, more than 1 animals, as well as craftsmen. The party would not be complete without all the entertainment for young and old.
The information and photos in this article correspond to the Foire de Bras-Panon 2023.
In 2023 the theme of the fair was, Our Earth, Mother Mother.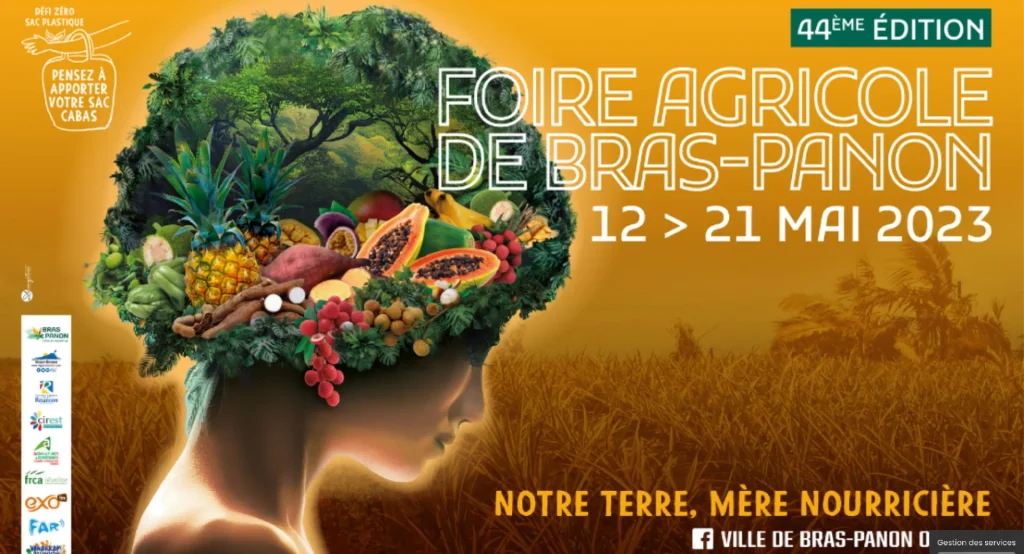 In 2023, the 44th Bras-Panon Fair attracted 150 visitors.
Each year the largest farm on the island attracts approximately 200 visitors from all over Reunion Island.
Major concerts are organized every evening as well as culinary competitions during which the participants will have the challenge of competing by cooking Péi products. In summary, the fair is an event that counts every year in theEast of Reunion.
AT THE TOURIST OFFICE STAND
During the Fair, on the stand of the Est Tourist Office, we offer virtual tours with an augmented reality headset.
Program of the Bras-Panon Fair 2023
You will find below the program of the Foire de Bras-Panon 2023. This year a great local artistic program, to enchant us and make us dance. The concerts of the Bras-Panon Fair 2023.
List of concerts at the Bras-Panon Fair 2023
Click on the arrows for concert details
Friday, May 12th, 2023
at 19:30 p.m.
Aissa,
Lucy,
SegaEl,
Wendy indian dance
Saturday 13 May 2023
Maloya evening / World music
20:00 p.m. Davy Sicard
21:30 p.m. Lindigo and guests
Sunday, May 14, 2023
14:00 p.m. Radio hook
Zarbutan evening
20:00 p.m. Benjamin
21:30 p.m. Ziskakan
Monday 15 May 2023
Urban / Roots fusion
20:00 p.m. Maya Kamati
21:30 p.m. Kaf Malbar
Tuesday 16 May 2023
Fanm an lèr
20:00 p.m. Gwendoline Absalon
21:30 p.m.
Wednesday, May 17, 2023
Fanm an lèr
18:30 p.m. Yango Roots sings Bob Marley
20:00 p.m. Kom Zot
21:45 p.m.Natty Dread
Thursday, May 18, 2023
974 Vibes
20:00 p.m. Presented by Featxela MC
DJ Dan Wayo
Alazan to
Nicko Real Lion
Liljooe
Lea Churros
Friday, May 19th, 2023
Nasyon Maloya
19:00 p.m. Melanz Gayar
20:00 p.m. Loran Dalo
21:30 p.m. Danyel Waro
Saturday 20 May 2023
Comedy evening
20:00 p.m. Lorkes Bann Dalon
21:30 p.m. Marie Alice Sinaman "The best of" guest Erick Fleuris and Wilfrid Thémyr
Sunday, May 21, 2023
14:00 p.m. Radio hook final
Indian Ocean evening
19:00 p.m.
20:00 p.m. Clara
21:00 p.m. Désiré François and Cassiya
Culinary competition 2023 of the Bras-Panon Agricultural Fair
Culinary competitions are organized, during which the participants will have the challenge of competing in the kitchen with péi products. See competition details below.
For more information and for registration: 0262 47 39 75 or by email: [email protected]
Culinary events at the Foire de Bras-Panon 2023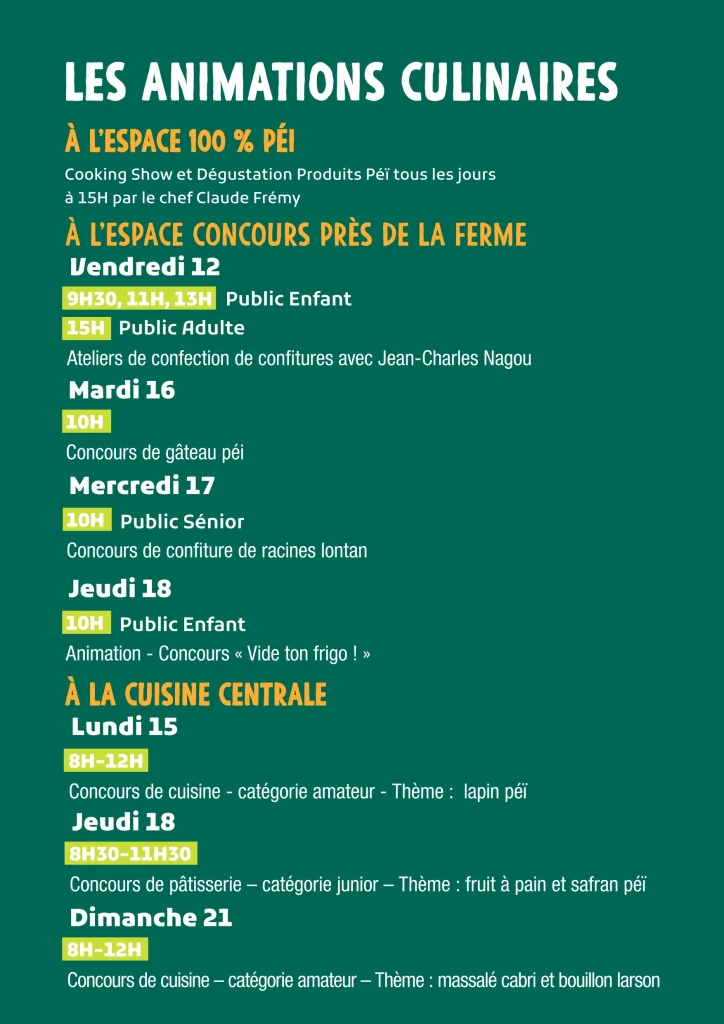 Buy your tickets in advance
This year you have the possibility to buy your tickets directly online.
You can stroll around the fair at leisure to discover the local products of Réunion. Fresh products, jams, honeys, "péi" cakes… Craftsmanship, know-how and home-made are very present at the Bras-Panon Fair. Discover farmers, breeders, craftsmen and traders over the stands. The Bras-Panon fair is also a carnival as well as many concerts, as mentioned above. last year nearly 50 artists performed over the 10 days.
The traditional Bras-Panon Fair 2023 is organized by the Municipality of Bras-Panon, it represents the biggest demonstration of the Reunionese agricultural world. A call for applications is in progress, concerning those who wish to exhibit at the fair, click here to see the call for applications.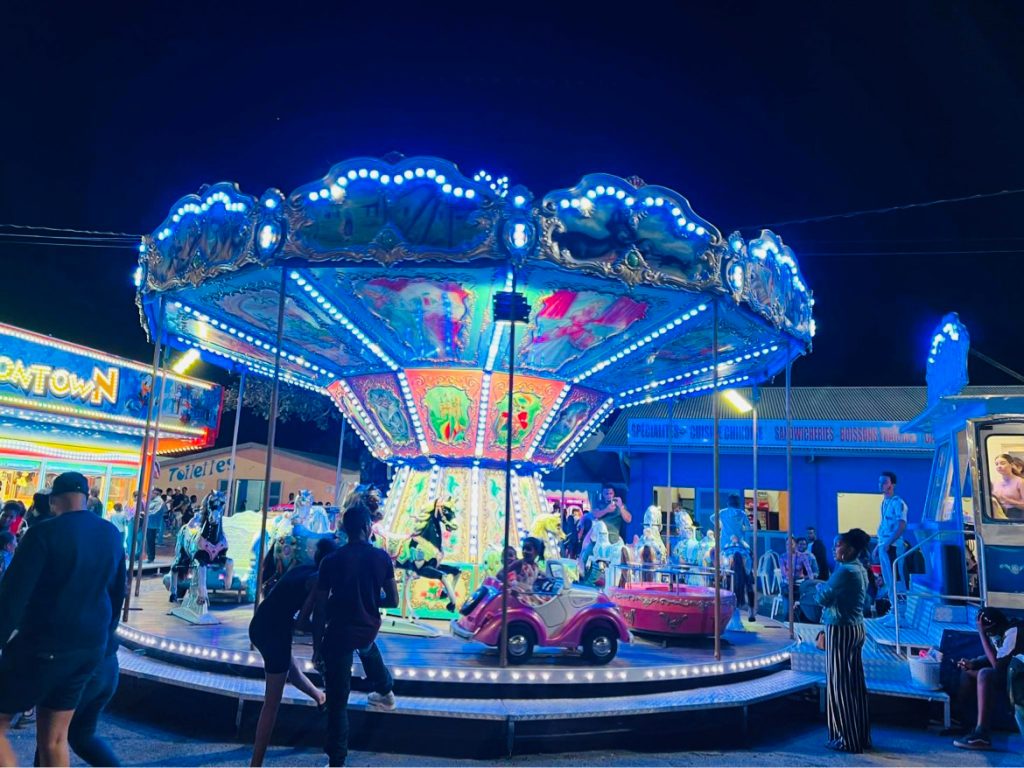 This unmissable event is of course the opportunity to discover farm animals, an organic garden, a farmers' market and péi products, but it is also during 15 days of many animations, concerts, competitions, conferences and others. demonstrations at the Agricultural Fair.
To discover while waiting for the Agricultural Fair of Bras-Panon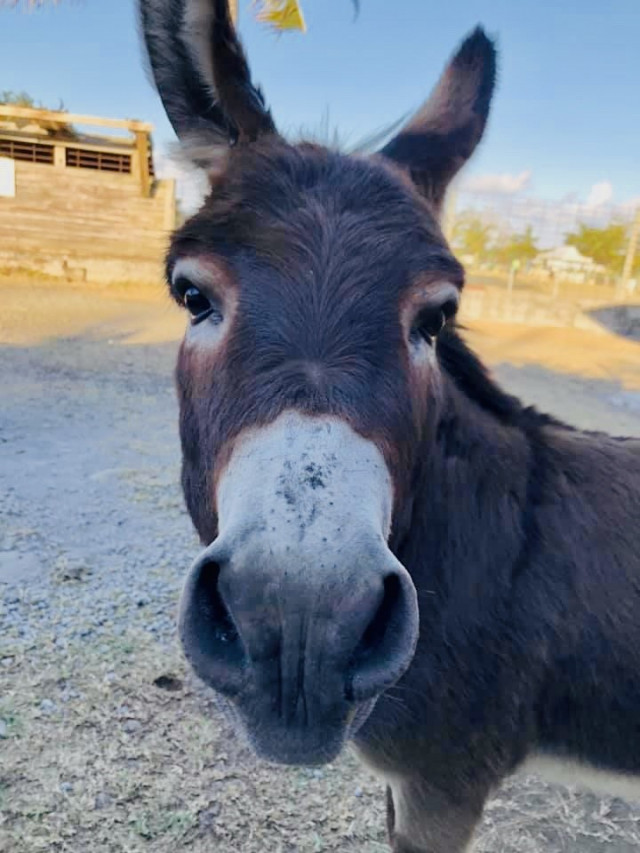 Lamas, alpaguas, dromedaries… Discover the Domaine Palssade in Saint-André.
An excellent moment of relaxation to do with the family.
You may also like...
10 November 12 November 2023
Free